2023 Kim Hill Scholarship
Have you or someone you know experienced

childhood cancer

and need help paying for education after high school

? 

 
Please apply for the 2023 Kim Hill Scholarship, co-offered by Eagles Fly for Leukemia and the Ronald McDonald House of the Philadelphia Region. Named after the daughter of former Philadelphia Eagles player Kim Hill and inspiration for the founding of the first Ronald McDonald House, this scholarship honors the educational pursuits and futures of individuals who have experienced cancer as a child.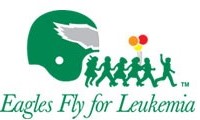 Four (4) $5,000 scholarships are available for motivated students and will be selected via a scholarship application selection committee. 
Am I eligible?
Scholarships will benefit survivors or current fighters of pediatric cancer who are pursuing higher education. Applicants in treatment or completed with treatment are eligible. Relatives and friends of Eagles Fly for Leukemia and the RMHC Philadelphia Scholarship Committee and board of directors are not eligible. Recipients will be selected without regard to race, religion, gender identify, sexual orientation, physical disability, ethnicity, national origin or other protected category. Additional requirements are below: 
U.S. Citizen

 

Current high school senior, undergraduate, or graduate students who plans to continue education beyond high school (2-year college, 4-year college, or other professional/trade school)

Have a cumulative grade point average of 2.5 or higher

 

Confirmation of college acceptance or enrollment in a US accredited undergraduate or graduate institution

 

Demonstrate financial need as shown through legal guardian/parent pg. 1 of tax return

 

Current or previous pediatric cancer diagnosis

 

If selected, agree to allow EFL/RMHC to share your name and picture on our website and/or social media platforms

If selected, agree to provide EFL/RMHC with a short video about the impact of the scholarship on you or your higher education career

 
What do I need to submit?
How will my application be scored?
Applications will be evaluated on the following categories:  
Criteria may include but are not limited to:  
Academic Performance

 

Activity Involvement and Accomplishments

 

Recommendations 

 

Financial Need 

Personal Statements 

 

Personal Interviews, depending upon the number of qualified applicants
Please click here to download the rubric members of the selection committee will use.  
What are the deadlines?
Applications Posted

: March 8

, 2023

 

Application Submission Deadline

: April 30

, 2023 

 

Winners Notified

: June 1

, 2023

Award Ceremony

: Date TBD, June 2023

 
About Eagles Fly for Leukemia and Kim Hill
The Ronald McDonald House and Eagles Fly for Leukemia have a long history of partnership to support families facing childhood leukemia. In the 1970s, Dr. Audrey E. Evans was a pediatric oncologist at the Children's Hospital of Philadelphia who saw families spend night after night in the hospital while their children received life-saving medical treatment. She knew there had to be a better way, and envisioned a house where families could stay during these stressful and uncertain times.  
At the same time, the Philadelphia Eagles were raising funds in support of player Fred Hill, whose daughter, Kim, was in treatment for leukemia at St. Christopher's Hospital for Children. Under both the leadership of Eagles owner Leonard Tose and the Hills' neighbor Stan Lane, the team rallied behind the Hill family and Eagles Fly for Leukemia was formed to raise funds in support of leukemia research and oncology families. That first contribution was the first payment of a $1 million pledge made by Mr. Tose to support the creation of two isolation rooms on the new oncology floor at Children's Hospital of Philadelphia. 
When Eagles' General Manager Jimmy Murray approached St. Christopher's about making a donation, Dr. Lawrence Naiman suggested there was an even greater need for funds resting with Dr. Evans. Mr. Murray met Dr. Evans and became a champion for her cause. He reached out to Eagles advertiser, McDonald's, with the idea that they could offer the proceeds from their Shamrock Shake sales to benefit this new house. McDonald's agreed, and the first Ronald McDonald House was born in Philadelphia on October 15, 1974. 
The scholarship program commemorating Kim Hill, who became a survivor of pediatric cancer, has helped numerous cancer survivors pursue a college education. This scholarship aims to honor Kim and inspire the next generation cancer survivors to pursue their dreams.