WHY WE NEED TO GROW
In 1974, the doors opened to the first Ronald McDonald House here in Philadelphia. They've been open ever since.
Every year, the Philadelphia Ronald McDonald House continues to provide housing, food, comfort and companionship to hundreds of families with seriously ill children. Because we know that by keeping families close, we are helping to keep families together – as well as helping to keep them well. Unfortunately, due to lack of available space, today we must turn many families away.
To make room in our house, we must make room in our hearts.
That's why we've launched Room in Our Hearts, the most ambitious fundraising campaign in our history, which will more than double the available bedroom and amenity space at our flagship house at 39th and Chestnut streets, and establish a well of support to maintain our facilities and sustain our daily operations now and in the future.
By the numbers, Room in Our Hearts aims to raise $55M in capital and operational support by December 2020. This historic endeavor will enable us to go from serving approximately 800 families annually to an estimated 1,900 and to increase our available room nights from 16,000 to more than 40,000 per year.
Which brings us to the most important number: One. Every single gift to Room in Our Hearts, helps us meet our ultimate goal: ensuring that families with seriously ill children have easier access to care, suffer fewer financial burdens, and receive the critical psycho-social support that enables them to preserve normalcy in their lives.
Help us make room, so that we might keep more families close. Make your pledge of support to Room in Our Hearts today!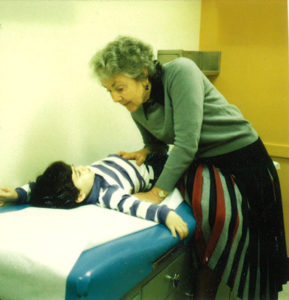 BUILDING ON A FOUNDATION OF HOPE
"I envisioned a place where parents could go, and stay together, near the hospital so they were readily available for their child. A place that provided comfort, and family-centered care to relieve the anxieties parents face when caring for a sick child."
– Dr. Audrey Evans.
Here at the first Ronald McDonald House we are all too familiar with the difficult realities of life. Indeed, helping families to fight the odds and cope with the strain of battling sometimes incurable pediatric illness is our reason for being.
Perhaps because of that, when faced with a hardship that can be overcome, our determination is not to be underestimated. After all, our co-founder Dr. Audrey Evans worked against huge odds when she began her quest to find a place to house families whose children were undergoing treatment for pediatric cancers at The Children's Hospital of Philadelphia in the 1970s.
More than 41 years after beating those odds, the challenge we face is this: for every family of a seriously ill child who finds food and shelter, care and comfort here at our Chestnut St. House, four others must be turned away due to lack of space.
They come to the Ronald McDonald House in need of help and hope, and in four out of five instances, we can provide neither. To those who work here, and those who volunteer, that is an unacceptable reality.
So with your help, we plan to change that reality once and for all. By participating in our Room In Our Hearts Campaign, you can help us raise the funds we'll need to more than double our capacity to open our doors to families in need.