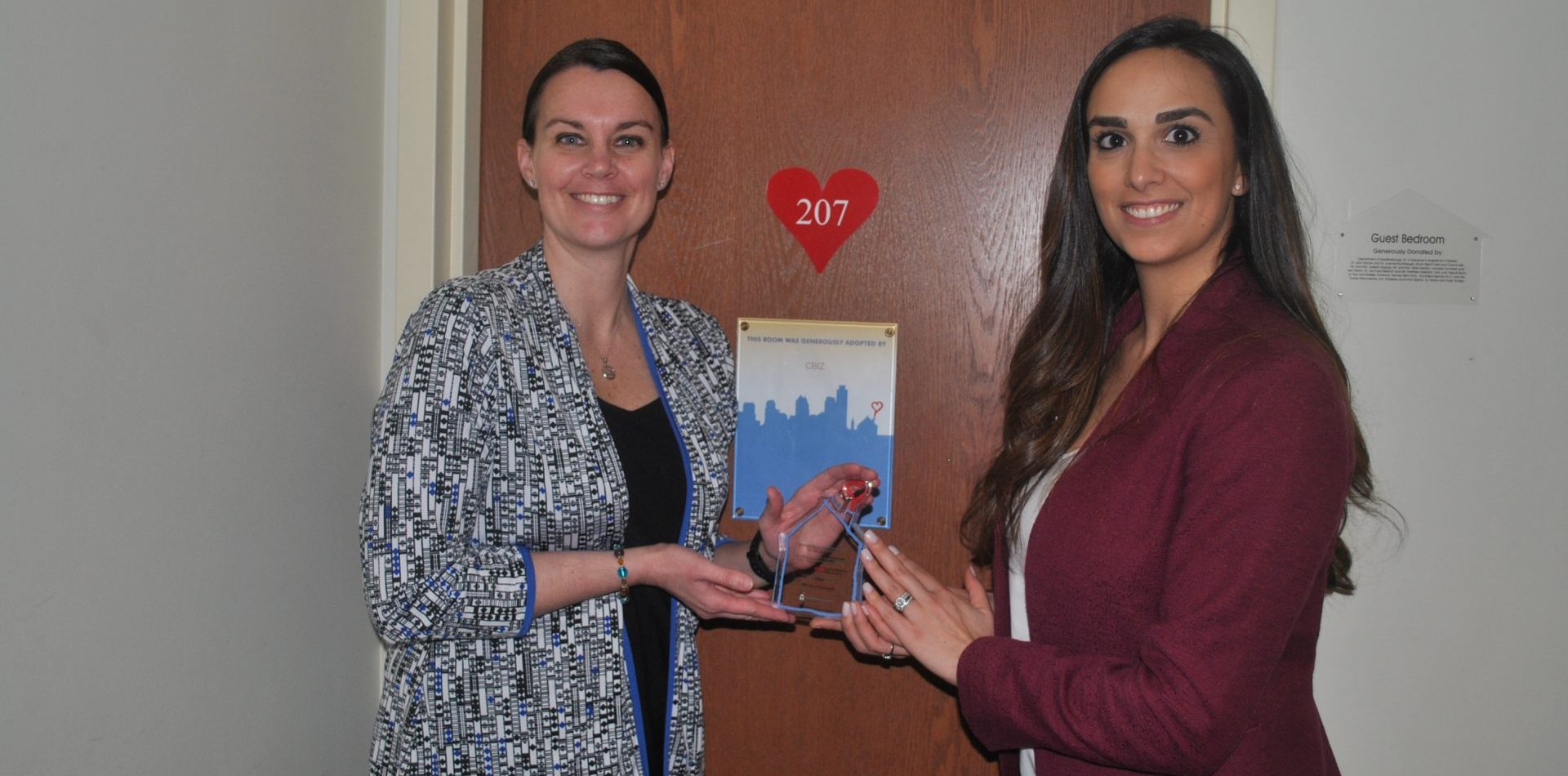 Click here to download the 2022 Adopt A Room sponsorship packet
The Adopt A Room partnership program allows you, your company, or your organization to be the room sponsor of a guest room at one of our two Houses—Chestnut Street or Front & Erie. Your funding will support the housekeeping and maintenance of that room and thereby provide a clean and comfortable space for all the families who will stay in that room for a whole year.
By partnering with our Adopt A Room program, you are doing more than making sure families have a place to sleep each night—as important as that is. You are making it easier for children to get the treatment they need and have their families close by their side, every step of the way. You are eliminating many of the financial challenges that come with traveling long distances for medical care,
so that parents can focus on their child's treatment. You are also providing parents with the support and rest they need to be there for their seriously ill children and their siblings.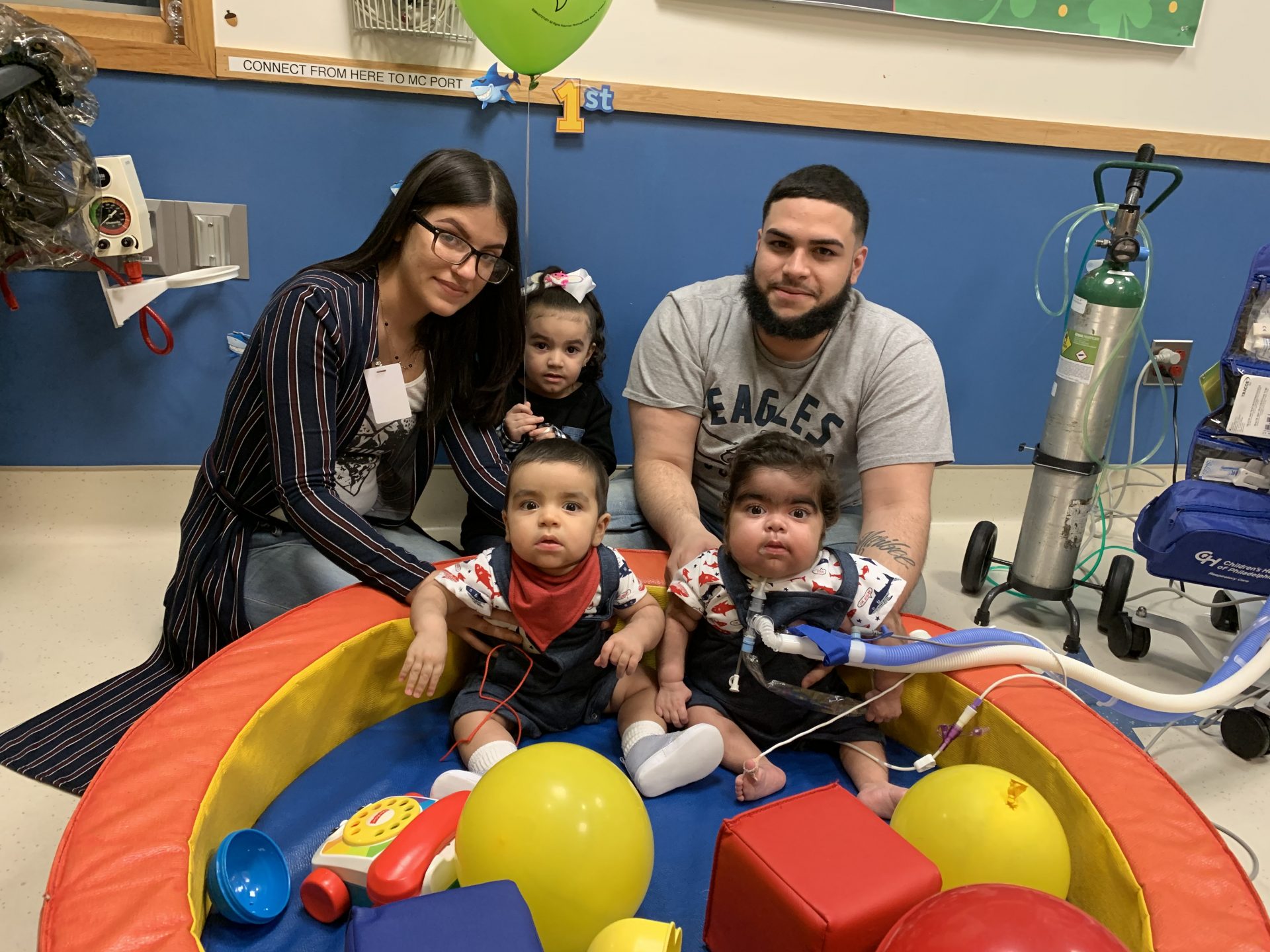 Me and my wife have
never experienced such
care and generosity. It's
outstanding.
– Joseph Matias-Fonseca,
House Guest
Twin brothers Jeremiah and Isaiah Fonseca-Gonzalez received oncology treatment and bone marrow transplants at CHOP. Their family has stayed at the Chestnut Street House for 364 nights.
In 2019, we had more than 2,384 family stays, with families traveling from 47 states and 31 countries. Families from Pennsylvania accounted for 33% of all stays and 24% came from New Jersey. While the average length of stay was 13 days, many stayed longer, with 365 nights being the longest length of stay.
Thanks to generous donors like you, 99% of these families believe that because of the House, they were better able to maintain their well-being while their children received care, and 99% believe that staying at the House helped to reduce their stress levels. Finally, 99% feel that the Ronald McDonald Houses in Philadelphia provided them with support that they would not otherwise have received during their children's care.
Abrdn
All the Grandchildren
Anna Hanson
Anonymous
AXA XL
Barbara and Fred White
Betsy Porth
Bob and Barbara Lewis
Boscia Family Foundation
Brad McPhee and Pat Tagliolini
Breakthru Beverage & Tito's Handmade Vodka
Broughton Foundation
Bruce and Nadine Goldenberg
Camp Timbertops
Cara's Sweethearts
Casey Doolin Memorial Foundation
Cervion Systems and a few Local Philadelphia Restaurants
Chelten House
Children's Healthcare Associates
CHOP Cancer Center
CHOP Cancer Center
Christina & Tyler Roy Foundation
Christine and Tyler Roy Foundation
CJR Memorial Foundation
Clarence J. Venne Foundation
Clarence J. Venne Foundation
Coldwell Banker Preferred
Comprehensive Financial Professionals, Inc.
Construction Financial Management Association – Philadelphia Chapter
Contemporary Staffing Solutions
Craig and Natalie Melograno
Cricket Wireless
CSL Behring
Cure Logistics
David and Barbara Cohen
Denny Parisan's Race 4 Ronald's House
DLL financial solutions partner
Donna Calvert and Family in honor of Stephen Calvert
Elliott-Lewis
Emerson Group
Evonik PeroxyChem
First Children Services
Gary and Joanne Gardner
Gemini Bakery Equipment
Gerald B. Shreiber Foundation
Given with love, Elizabeth, Olivia, and Emma Menkowitz
Given with love, Elizabeth, Olivia, and Emma Menkowitz
Harvey Goodstein Charitable Foundation
Health Partners Plan
Hillman Consulting, LLC
Hoffman's Exterminating
In honor of Amy Wolgin Wiener
In honor of Bill Roberson
In honor of Brandon Heiler
In honor of Cleo Magnolia
In honor of Kevin Delaney
In honor of Mighty Mason
In honor of Paul & Cathy Wendolowski
In honor of Rita Reichlin
In honor of Salvatore "Tankie" DiNubile – Love Fiercely
In honor of Scott Adam Menkowitz from Sue and Elliot Menkowitz
In honor of Whitney Fox
In honor of Mary and Emmanuel Rosenfeld
In loving honor of George McCarthy
In loving memory of Edwina Amoroso and Arlene Belinsky
In loving memory of Edwina Amoroso and Eileen Rosenberg-Black
Invisible Prince Foundation/Jane Lloyd naming tbd
J&K Wonderland Foundation
James and Jane Sutow Family Foundation
Janet and Jim Averill
Jason Fierko
Jill and Neil Reiff
Jill Segal and Ed Baim
Jim and Carol Ditkoff
Joseph Greene Mustache Fundraiser
JPMorgan Chase & Co.
June Leavy
Katie Kirlin Fund
Katie's Krusaders
KC Lum and Geraldine Dougherty
Kelsey Family Foundation
Kimberly and Andrew Sears
Klein Hersh International
Law Offices of McDonnell & Associates
Lisa and Arthur Berkowitz in honor of our fathers Edwin Berkowitz & Alan Boroff
LYLA
M&SCA of Eastern PA
Macy's
Marc and Gale Weingarten
Mark and Sue Panella
Mark and Sue Rabinowitz
Marlene Weinberg
Martin's Famous Potato Rolls
Metzger Family Foundation
Michelle and Todd Landau
Mike Kelly and Alison Saifer
Mike Madden
Nicole and Jack Meyers Family Fund
OneDigital
Otis Elevator
Pat Heenan
Paul and Debra Greenwald
Penn Power
Pennsylvania Farm Bureau
Pennsylvania Skill and Miele Manufacturing
Peter and Susie Wilmerding
Peter Degnan
Phil Pace
Philadelphia Eagles
Pittsburgh Dispatch Service, Inc.
Power Crunch
Power Crunch
Remmel Foundation through the PNC Charitable Trusts Grant Review Committee
Richard Genter
Robertson's Flowers
Sandy and Craig Steeneck
Shriners Hospital for Children – Philadelphia
SIGGiving
Steve and Jeanne Follett
Steve Berman
Steve Kelly
Students of the Frank J. Tornetta School of Anesthesia
Subaru of Cherry Hill
Susan and George Turner
The Blanco-Gottstein Family
The Brian Seibert Memorial Fund and The Committee to Benefit Children
The Gratch Family
The Holland Family Charitable Foundation
The Koegel Family
The Montufar Family
The Norton Family in honor of Margy
The Persinger Cookie Throwdown
The Turner Family
Thomas and Maryann Fenerty
Tmunity Therapeutics
Toufayan Bakeries
Triad Metals International
UAS
Van Aken Family Foundation
Watchdog Real Estate Project Management
Wells Fargo Advisors
With love from Cindy Keaveney
Wolfson Family Foundation
Wounded Warrior Project®
Wylie's Day Foundation
Zimmer Biomet